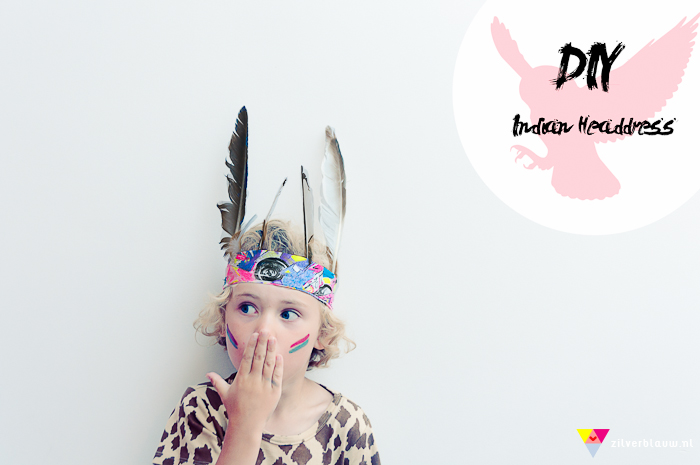 Tijdens onze vakantie vertelde ik over de verenverzameling die Wolf en ik aan het aanleggen waren. Dat deden we met een doel: Wolf wilde een Indianentooi. Hij bedacht dat er voor ieder leeftijdsjaar een veer op de tooi moest komen, dus zocht voor zichzelf de vijf mooiste veren uit zijn verzameling. Mus kreeg ook een tooi, met één veertje.
During our vacation at sea Wolf and I started collecting feathers. We did that with a purpose; Wolf wanted an Indian headdress. He decided that each year of age would mean one feather, so he picked the five most beautiful feathers for himself and a sweet small one for Mus.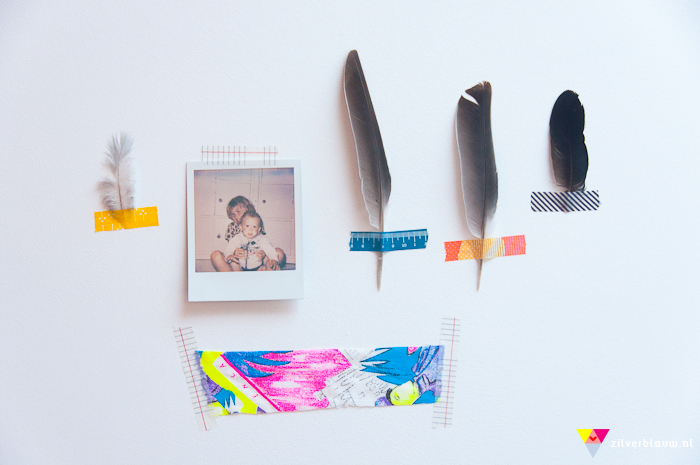 DIY Indianentooi
Nodig:
Veren; zoveel als je wilt, liefst zelf zoeken dan heb je twee activiteiten in één. Twee reepjes stof. (Deze jaren '80-stof vond ik op een rommelmarkt in Zeeland) Stukje elastiek, ik kocht een pakje bij de Zeeman voor minder dan een euro. Naaimachine.
Doen:
Knip twee repen stof in dezelfde breedte, iets minder lang dan de omtrek van het hoofd van je kind. Leg de bedrukte zijden op elkaar, stik vast in de lengte en draai daarna binnenstebuiten. (zie foto linksboven) De veren voorzichtig vast zetten, in twee keer. (boven en onder, zie foto rechtsboven) Bij de grote veren op Wolf's tooi tilde ik het voetje van de naaimachine op en naaide ik een stukje handmatig, omdat de pennen van de veren vrij dik zijn. Stukje elastiek zo vastzetten dat de tooi goed om het hoofd van je kind blijft zitten. Veel speelplezier!

DIY Indian headdress
You need:
some fabrics (I found this fabric from the '80 on the fleamarket) Feathers, preferably found by your children because it makes the activity way more fun. Some elastic tape / braided elastic. Sewing machine.
To do:
cut out two strips of the fabric, with roughly the size of the outskirts of your childs head. Place the printed sides on top of each other and sew together. Turn inside out after sewing. (see photo) Sew the feathers on the fabric, (see photo) gentle with big feathers because they easily cause damage to the needle of your sewing machine. Attach the elastic tape. (see photo) Have fun playing!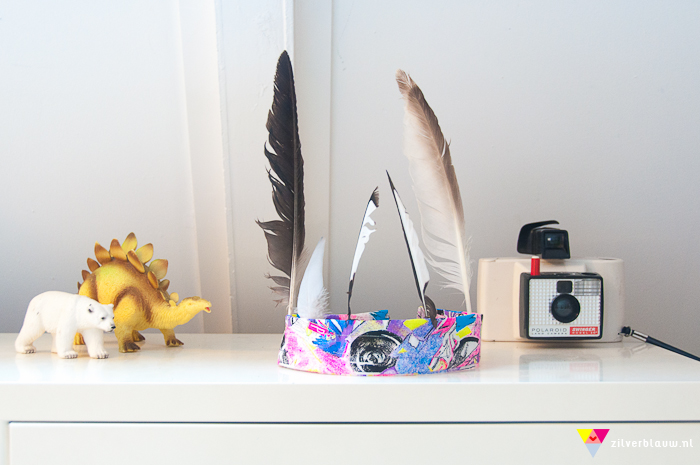 Een vervelend neveneffect van deze activiteit is dat wij dit foute liedje nu al de hele week in ons hoofd hebben. Wat een pech voor ons.
This typical really bad Dutch song about cowboys and indians is stuck in out head ever since we made the Indian headdresses. Such a heavy side-effect of a nice activity, argh.