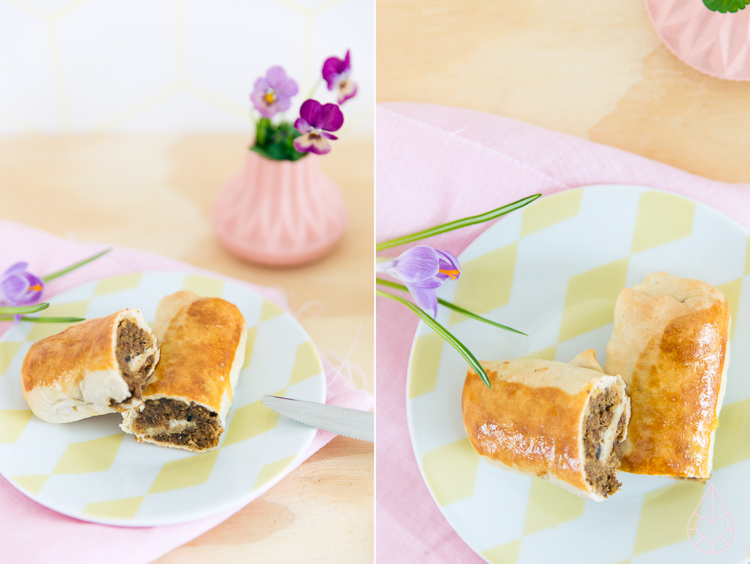 Als Brabantse zal ik niet ontkennen dat ik, sinds ik vegetarisch eet, worstenbroodjes behoorlijk mis. Ze worden hier te pas en te onpas uitgedeeld: tijdens bijeenkomsten op mijn werk, vieringen op school en bij familie. Ze ruiken ook zo lekker. Er is in dit deel van Brabant zelfs elk jaar een wedstrijd, waaraan bakkers en slagers meedoen die strijden om de titel 'beste Brabantse worstenbroodje'. De winnaar mag een jaar lang een mega-spandoek op zijn winkel hangen met de verworven titel in schreeuwerige letters, bij voorkeur in Comic Sans. Oh, de geneugten van het platteland.
Maar goed, vegetarische worstenbroodjes dus. Nog best een lastig klusje, want hoe krijg je dat korrelige vegetarische gehakt nou tot een fatsoenlijk worstje? Ik experimenteerde wat en kwam uiteindelijk tot onderstaand recept.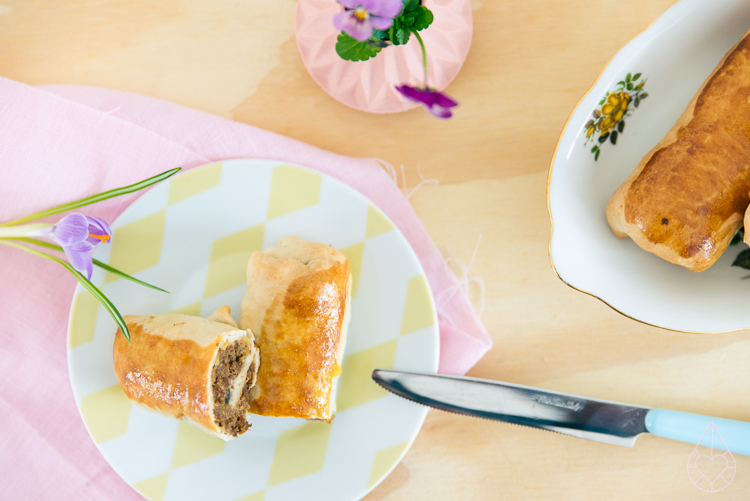 Nodig: 2 pakken vegetarisch gehakt, (wij gebruikten dit) een pak broodmix voor witbrood, (wij gebruikten deze) twee uien, een zakje gehaktkruiden, (wij gebruikten een heel zakje van deze, je kunt de kruiden natuurlijk ook zelf mengen) drie eetlepels maïzena, 6 eieren, boter.
Doen: schil en snijd de uien, fruit ze in een ruime hoeveelheid boter en voeg daarna het gehakt en de gehaktkruiden toe. Bak een minuut of tien en maak ondertussen de broodmix klaar zoals op de verpakking staat. Meng vijf van de eieren met drie lepels maïzena, doe er een klein scheutje water bij en roer goed door. Haal het gehaktmengel van het vuur, doe het in een kom en laat even afkoelen. Rol het brooddeeg goed dun uit met een deegroller en snijd rechthoeken van ongeveer 15 bij 20 cm. Doe het eiermengsel bij het gehaktmengsel, even goed mengen. Leg in het midden van elk plakje deeg een 'worstje' en vouw het deeg eromheen, zodat het een pakketje wordt. Besmeer de bovenkant met eigeel en bak in een op 225 graden voorverwarmde oven in 15-20 minuten af. Smakelijk!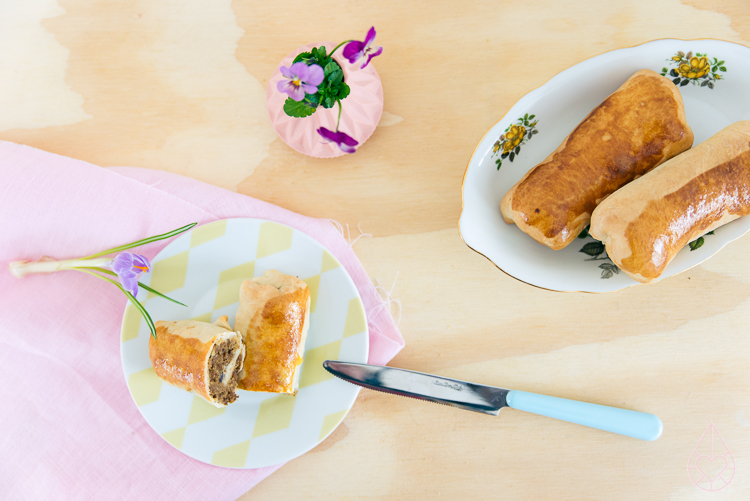 In our part of the Netherlands, Noord-Brabant, 'sausage bread' is a local delicacy. It is served at, for example, family gatherings, business meetings and to celebrate people's birthday. I love the taste and smell of sausage bread and since we decided to become vegetarians, it's one of the things I truly miss. So last weekend I experimented a bit and made vegetarian sausage bread. I wasn't disappointed: it actually tasted pretty good. Wanna give this typical Dutch recipe a try? Please use google translate.