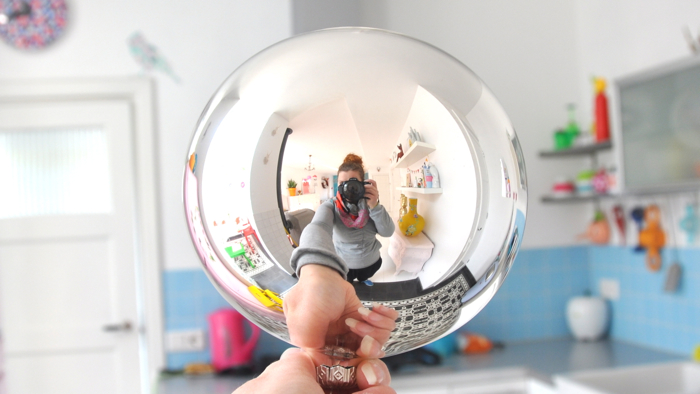 Ik was altijd al een beetje verliefd op deze post van een van mijn favoriete blogs DosFamily en wilde dolgraag ook 'ns proberen mezelf en mijn omgeving te fotograferen met een HDRI mirror ball. Maar ja, van die 3d-toestanden waar zo'n bal normaliter voor gebruikt wordt heb ik helemaal geen kaas gegeten. Ik ken ook niemand die een mirrorball in z'n bezit heeft, dus het kwam er niet van. Tot ik de aankondiging van de kerstshow bij het tuincentrum bij ons in de buurt zag. Een grote zilveren kerstbal werkt natuurlijk ook! Bij deze dus; ons huis en ikzelf via een kerstbal!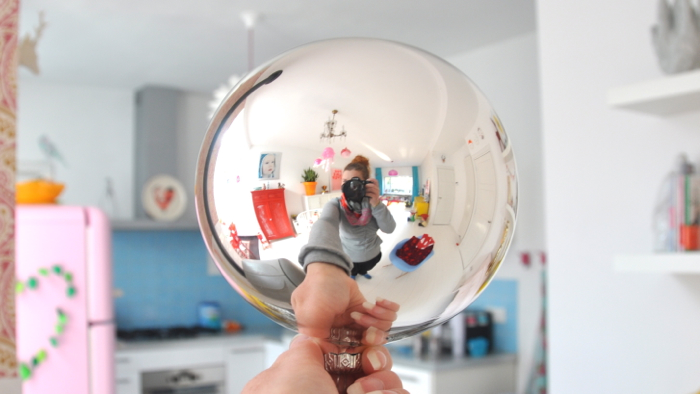 I am kind of in love with this post on the great blog DosFamily and I always wanted to try to photograph myself and our home trough a mirrorball. So when I saw the announcement of a big christmasfair at a local store, I couldn't resist buying a large silver ball. So here it is; my home and me through a christmas decoration.
Ik ben trouwens best trots op mijn vermelding bij VT wonen loves blogs, klik hier om het artikel te bekijken. Fijne dag lieve bloglezers!
I'm really proud to be on the VT wonen loves blogs-list. Click here to read the article. Have a nice day sweet blogreaders!