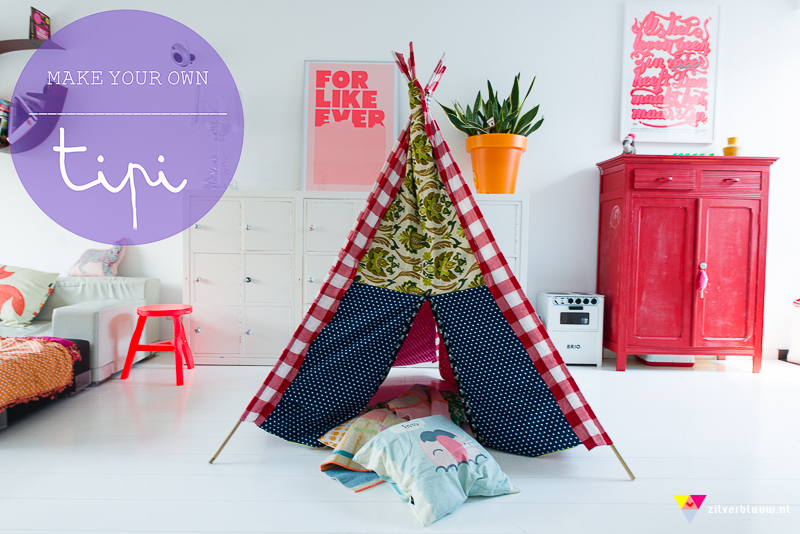 Als ik terugkijk op alle DIY's die maakte, is de tipi toch wel degene waar we het meest aan hebben. Ik maakte 'm voor Wolf's derde verjaardag, nog voordat ik begon met bloggen. En hoewel ik nu andere stofjes zou kiezen, vind ik 'm nog steeds heel leuk. Het ding heeft zichzelf de afgelopen jaren ruimschoots nuttig gemaakt: Wolf heeft er uren mee gespeeld en nu speelt Mus er dagelijks mee. Het maken van de tipi is supersimpel, het enige wat je hoeft te kunnen is knippen en rechtdoor stikken op de naaimachine. En je kunt het zo duur of goedkoop maken als je zelf wilt: als je helemaal geen stof in huis hebt en de goedkopere stofjes van IKEA of de markt gebruikt, ben je klaar voor nog geen 20 euro. Mocht je wel nog wat stoffen in huis hebben: alle grotere leftover-stoffen zijn te verwerken in de tipi. Het mooie van de tipi vind ik dat 'ie heel makkelijk ruimtebesparend op te bergen is. Goed cadeau voor 5 december! Zo maak je 'm. (Ik stal het patroon eens bij een dure winkel voor kinderkamers, ik noem geen namen. Daar kostte de tipi 120 euro. Ik heb stiekem met zo'n papieren IKEA-meetlintje het ding op staan meten. Ohhh.)
Nodig: 5 bamboe-stokken van 210 cm lang. Ik kocht de onze bij de Boerenbond/Welkoop. (ook te koop bij elk ander tuincentrum) Paar meter stof. Ik weet niet precies hoeveel ik heb gebruikt. Je kan echt elk stofje gebruiken. Ik heb de tipi ook gevoerd aan de binnenkant, dat hoeft niet persé maar maakt 'm wel lekker stevig. Daarvoor heb ik resten stof gebruikt.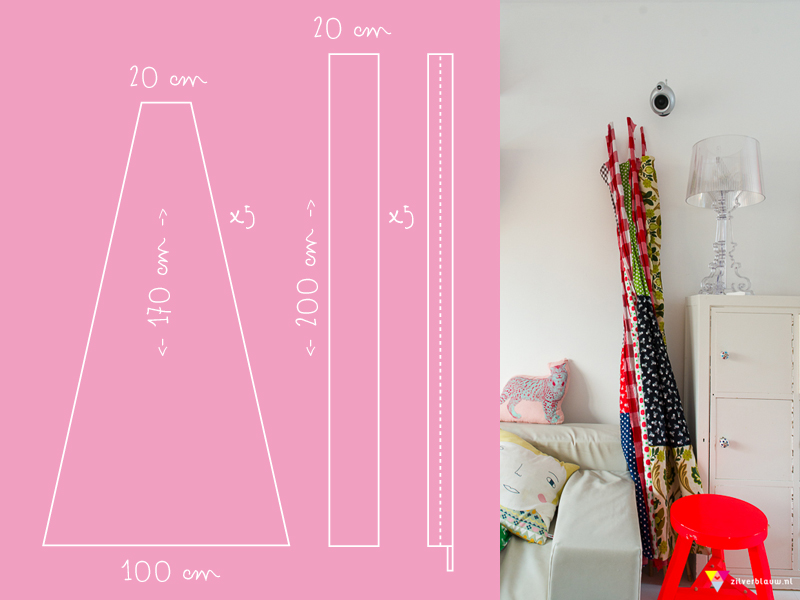 Doen: maak vijf keer bovenstaand lange-driehoek patroon. Eventueel met een voor- en achterkant, (dubbel) dan is de tipi meteen gevoerd. Knip vervolgens de stukken stof om de stokken in te zetten. Zoom de randjes om. Vouw dubbel en stik in de lengte en aan de bovenkant dicht, zodat het een soort hoesje om de stokken vormt. (zie het plaatje) De 'flappen' die je nu hebt gebruik je om aan de lange driehoeken vast te stikken, vanaf 20 cm van de bovenkant. (zie de foto) Als je alles aan elkaar gestikt hebt, kun je de stokken in de houders steken en is je tipi klaar. Veel speelplezier!
I made this tipi for Wolf's third birthday, more than 3 years ago. It's still one of our kids' most beloved play gear. Really easy to make, and storage- and budgetfriendly. Check out the pattern above and use google translate if you need to know more.