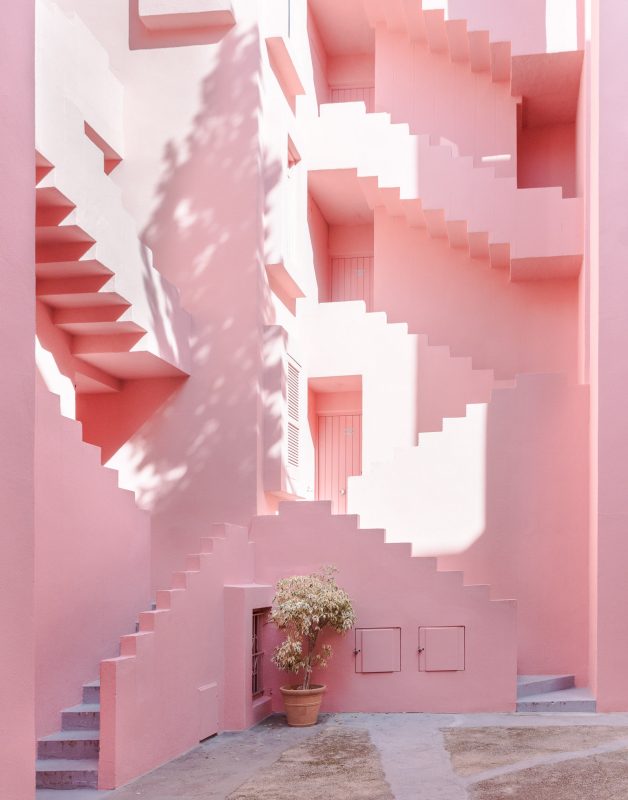 Jarenlang bewaarde ik plaatjes van La Muralla Roja, dat letterlijk 'de rode muur' betekent, op een van mijn borden op Pinterest. Stom genoeg had ik nooit opgezocht waar dat gave gebouw van architect Ricardo Bofill nou eigenlijk stond. Het zag er zo gedurfd uit dat het wel in Miami moest zijn, in Peru of ergens anders waar je niet zomaar even op vakantie gaat.
For years I saved pictures of Ricardo Bofill's 'La Muralla Roja' (the red wall) on Pinterest, and now I can finally experience this amazing building in real life. I love the fabulous colors, the way the light plays with the shapes of the building and the fact that the colors keep changing through the day. The boys love the pool on top of the roof. We're so lucky to be here.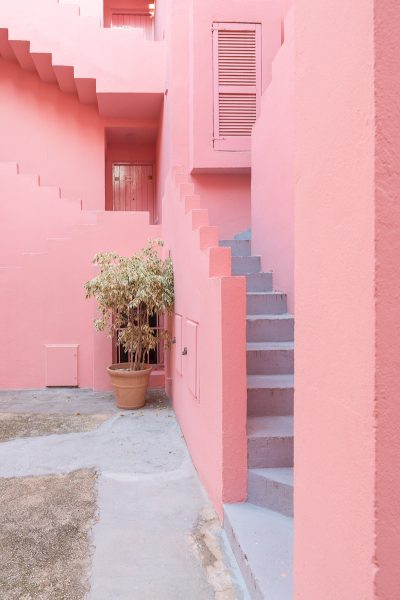 Toen ik afgelopen zomervakantie in Zeeland 's avonds laat een beetje balend nog zat te werken, werd ik op Instagram getagd bij een foto van La Muralla Roja. Ik klikte achteloos op de locatie die bij de foto stond vermeld. La Muralla Roja bleek niet in Peru of Miami, maar vlakbij Alicante te liggen én er bleken appartementen verhuurd te worden via Airbnb (nogmaals dank voor de fantastische tip Dina). Na de zomervakantie, waarin we het veel te druk hadden, besloot ik te boeken. Een weekje weg met z'n vieren. Naar een appartement met prachtige kleuren. Of een doolhof, zoals Mus het noemt, met de vele trappetjes en smalle gangetjes. Er is een zwembad op het dak, dus het is win-win. Zij genieten van de zon en het water, ik van dit fantastische gebouw dat door de dag heen van kleur verandert. Van het spel van de zon en schaduwen op de muren en van de manier waarop Bofill overal over na lijkt te hebben gedacht. We zijn er pas net, maar ik vind deze vakantie nu al geslaagd.