Onze kinderen vinden niets leuker dan logeren. Bij vriendjes, bij opa en oma én bij elkaar. Vaak kruipen ze 's middags al in bed, waar ze spelletjes spelen op de tablet of samen een film kijken.
Wolf turned ten (!) years old last November, so we teamed up with IKEA to make his room a bit more teenager-proof. His room is one of the favorite places of our home. Click here to see pictures from his attic in 2011.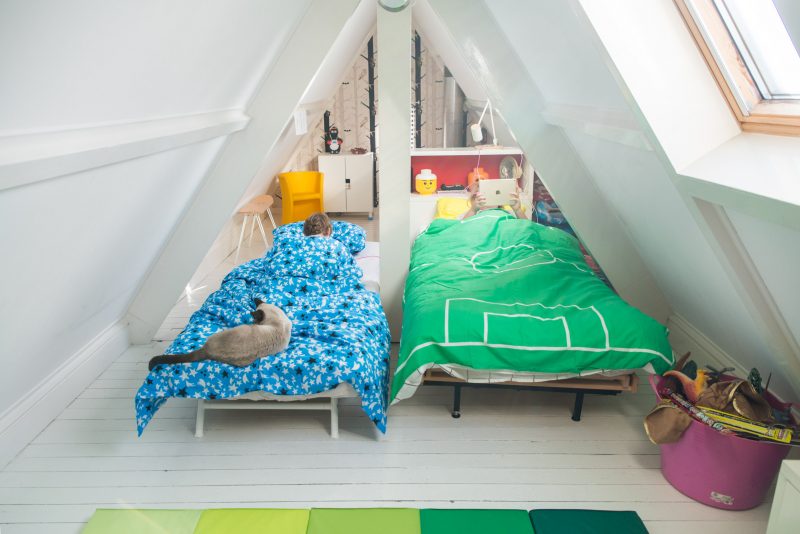 Sinds een tijdje hebben we een IKEA PS slaapfauteuil op de zolderkamer van Wolf staan. Ingeklapt ideaal om op te knuffelen met de kat, uitgeklapt een perfect logeerbed dat niet teveel ruimte inneemt. Voorheen sliepen logee's op een dun matje of een luchtbed. Niet zo comfortabel en minder gezellig, door het verschil in hoogte. Het nieuwe logeerbed is zo'n succes dat de kinderen ook op gewone doordeweekse dagen komen vragen of we het bed willen uitklappen. Naast slapen blijkt het namelijk ook erg geschikt om op te 'chillen', een van Wolf's favoriete bezigheden.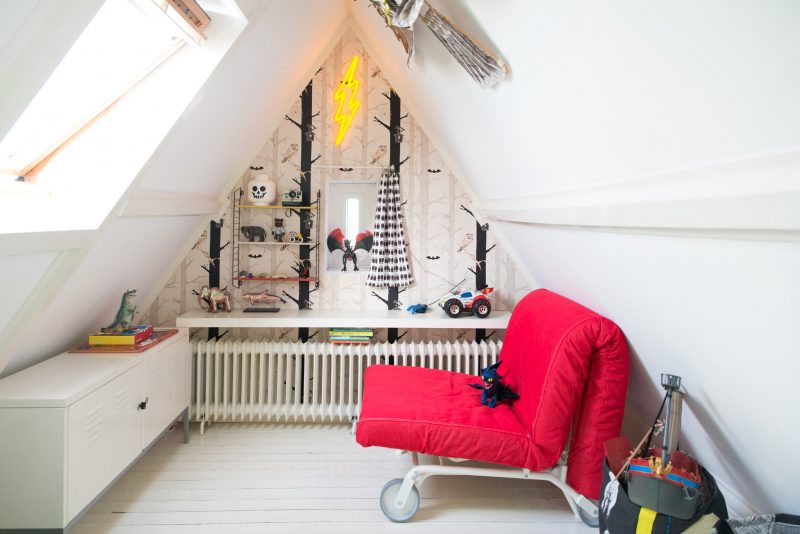 We merken echt dat Wolf groter aan het worden is. Zijn kinderkamer verandert langzaamaan in een heuse kamer voor tieners. Steeds meer speelgoed is overbodig omdat hij er niet meer mee speelt. De spullen die hij nog wel gebruikt, stopten we in opbergtassen. Zo kan hij er makkelijk bij, maar is alles ook weer zo opgeruimd als het spelen voorbij is.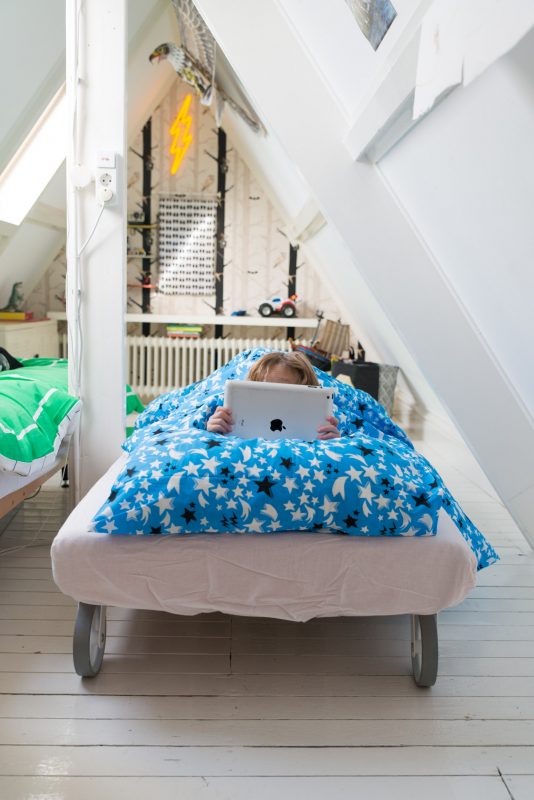 Om de zolder met schuine wanden wat ruimer te doen lijken, hebben we er destijds voor gekozen om zowel de vloer als de wanden van Wolf's kamer wit te schilderen. Op wit komen eigenlijk alle kleuren goed uit. Het groen van het voetbaldekbed matcht goed met de groentinten van de gymnastiekmat, die naast spelen ook fijn is om je op aan- en uit te kleden. Zo hoef je niet met je blote voeten op de houten vloer te gaan staan.
Wolf vindt zijn kamer nog steeds de coolste ruimte van het hele huis. Wil je weten hoe zijn kamer er 5 jaar geleden uit zag? Klik dan hier. We voelen ons vereerd dat we de komende tijd mogen samenwerken met IKEA Nederland, hier kun je ons bericht en nog veel meer wooninspiratie vinden. Wens jullie een fijne donderdag!