English below
Vroeger, toen onze kinderen jonger waren, deelde ik regelmatig creatieve projecten die ik met ze deed. Naarmate ze ouder werden en dit blog en bijbehorende social media groeide, verschenen ze steeds minder in beeld. De tijd vliegt. Onze oudste zoon gaat na de vakantie al naar de middelbare school en de jongste al naar groep 5. Vandaag deel ik graag een leuk zomervakantie-project dat hier altijd een gegarandeerd succes is: de Grote Kartonnen Doos.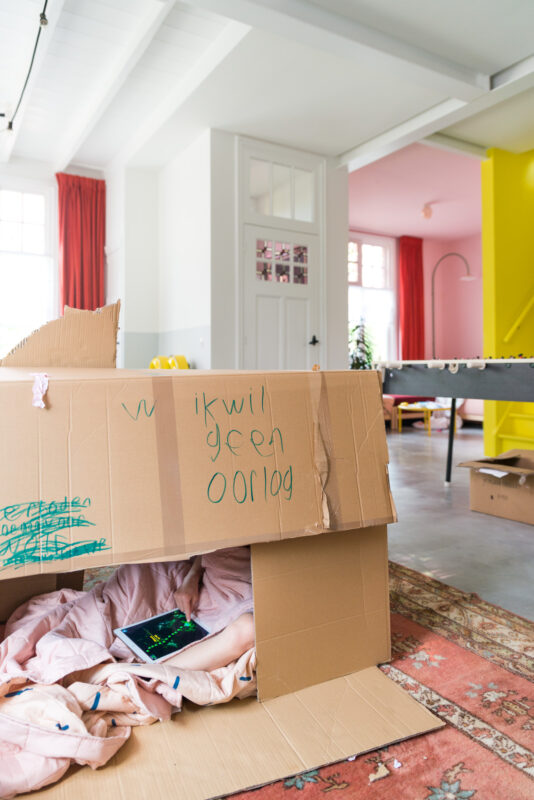 De afgelopen jaren zijn er hier al tientallen bunkers, kastelen en huizen gebouwd van kartonnen dozen. Hoe groter de doos, hoe meer plezier. Ik kan geen grote kartonnen doos meer zien zonder dat de mogelijkheden door m'n hoofd schieten: deze doos zou het goed doen als bunker, die zou een mooie boot kunnen zijn. We hadden geluk, nét voor de zomervakantie vonden we twee enorme dozen die, met wat passen, meten en duwen, in onze auto pasten en dus mee konden naar huis.
Het leuke aan dozen is dat de kinderen zich er uren mee vermaken, maar een extra bonus is dat ook de katten dozen fantastisch vinden. Vooral Pjoes gaat graag met onze kinderen mee 'op kamers'. Onze kinderen versieren de dozen graag met stiften en slepen er dekens en kussens in. Een beetje doos gaat hier soms maanden mee en staat garant voor urenlang speelplezier.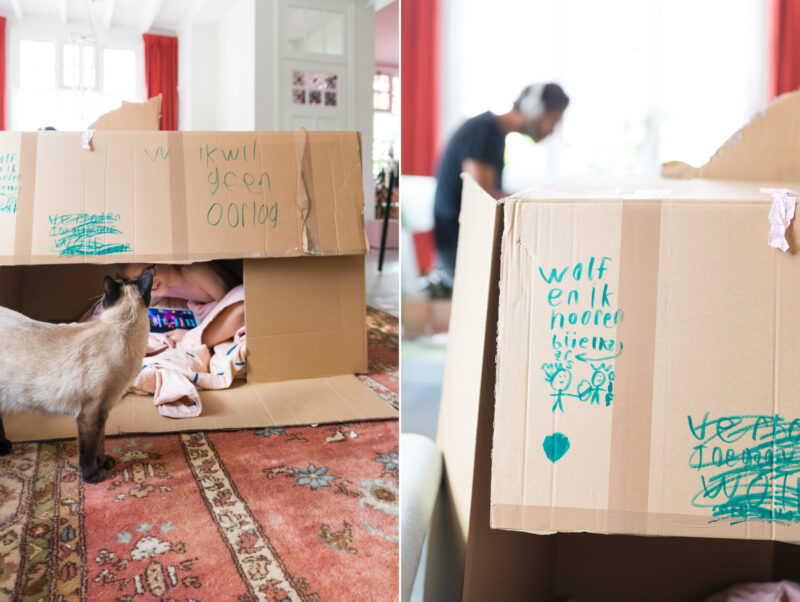 Geen idee waar je een grote doos kan vinden? Informeer eens bij elektronicawinkels of meubelzaken. Veel bedrijven zetten de dozen zo bij het oud papier en als je het even vraagt, mag je er misschien wel een meenemen. Je kunt natuurlijk ook van een paar kleinere dozen (verkrijgbaar bij o.a. de supermarkt) een grote maken. Alvast een fijne zomervakantie!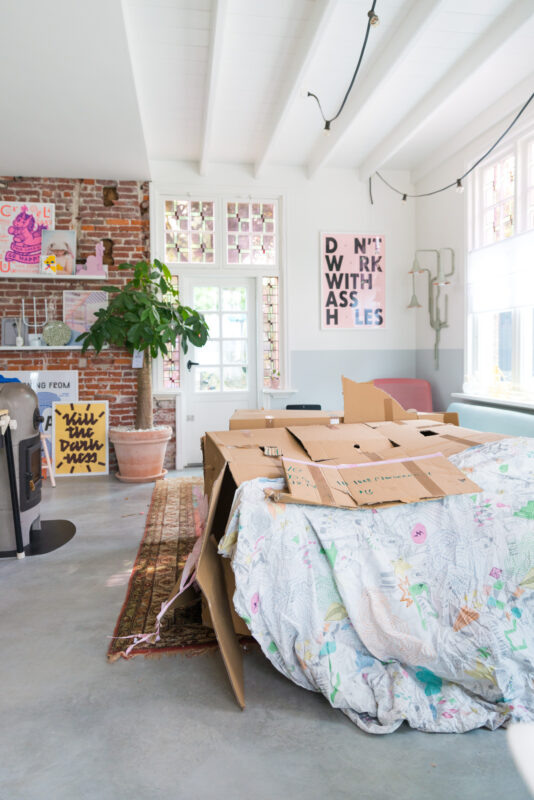 Summer is here and so is the summer break. Our kids (even our 12-year old) are really into playing with large cardboard boxes. They build their own fort, castle or bunker, decorate it with markers and fill it with cushions and blankets. Even the cats are invited. Cheap and easy, hours of fun guaranteed. Have a lovely summer!