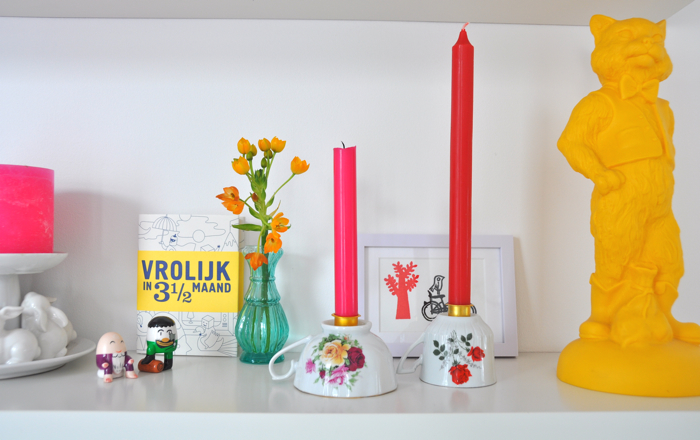 Jaja, ik heb verlof, kan niet zo goed niksen en heb niet zo'n zin om de hele dag schoon te maken, dus verzin ik allerlei projecten om mezelf bezig te houden. Vandaag maakte ik kandelaars van de kopjes van het bloembolservies. Simpel, goedkoop en je vult zó een dagdeel op met iets redelijk zinnigs, of in ieder geval iets met resultaat.
Nodig:
– kopjes, maakt niet uit welke, liefst lekker ouderwetse van de kringloop. Je moet ze op z'n kop kunnen zetten.
– kaarsenhouders. Ik kocht bij de kringloop twee oerlelijke kandelaars, kon bijna niet geloven dat ze er nog een euro per stuk voor vroegen. Gelukkig kreeg ik korting omdat Wolf lief lachte naar de vrouw achter de kassa. Een kandelaar sneuvelde al voordat ik thuiskwam. Ik peuterde de kaarsenhoudertjes eruit en gooide de rest van de kandelaars daarna snel weg.
– secondenlijm en kaarsen.
Doen:
– sloop de kaarsenhouders uit de oude kandelaars. Als er kit opzit, dat was in mijn geval zo, dan kun je dat eraf krijgen door kokend water over de kaarsenhouder te gieten. De kit laat zich vervolgens gemakkelijk verwijderen.
– gebruik secondenlijm om de kaarsenhouder vast te lijmen op de onderkant van het kopje. Voila, klaar! Zie hieronder nog wat visuele ondersteuning voor de beelddenkers onder ons.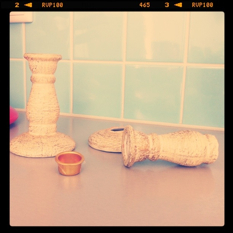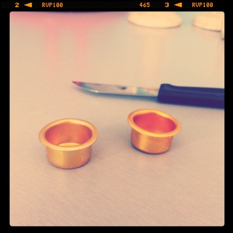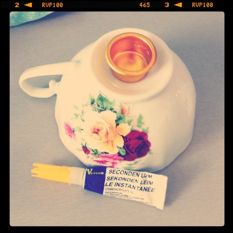 I made candleholders out of old thrifted cups. (I used the cups before for this project) First I demolished two old candleholders, also found at the thriftstore. I removed the little candlecups and glued them on the bottom of the cups. Voila, ready! Easy eh?
De mooie print op de achtergrond van de bovenste foto is natuurlijk van Mus. The beautiful print in the background is from Mus.