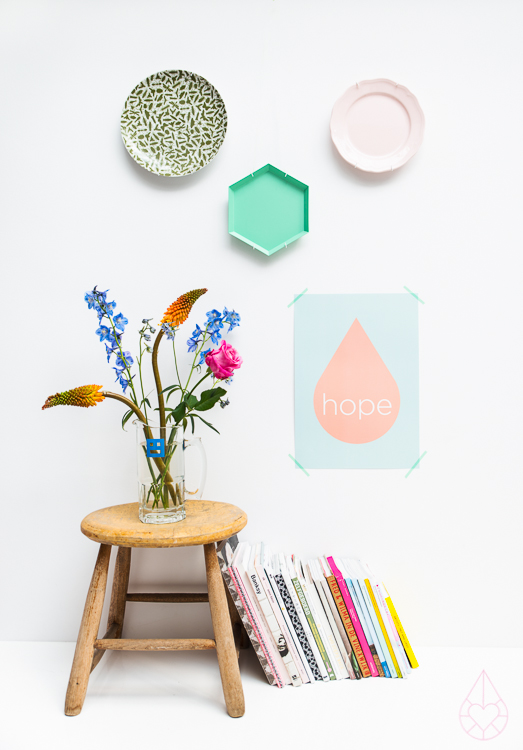 Ik nam me voor niet te sentimenteel te gaan doen in deze blogpost, want hé, het gaat immers maar om een poster. Maar toen ik begin 2013 de Hope-poster ontwierp, was ik er zeker van dat het de laatste poster was die we ooit als Zilverblauw zouden uitbrengen. Ik zou stoppen met de online wereld, het had me teveel ellende gebracht. Als iemand me in die tijd zou hebben verteld dat we pakweg anderhalf jaar later bijna 25 verkooppunten zouden hebben met Zilverblauw en als merk op een heleboel andere fronten actief zouden zijn, had ik die persoon keihard uitgelachen. Als iemand me zou hebben verteld dat de Hope-poster zou uitverkopen, zou ik nog harder hebben gelachen. (Toen ik 'm naar de drukker stuurde bereidde ik me voor op een leven lang al mijn kamers behangen met Hope-posters.) En toch gebeurde het.
Ik bleef bloggen, begin 2013, simpel omdat het maken en delen van mooi beeld me blij maakte, toen en nu nog steeds. Ondertussen verspreidde de Hope-poster zich in een rap tempo online en in verschillende tijdschriften. De poster werd mijn eigen reminder om vol te houden, te blijven geloven in mezelf, in Zilverblauw en in wat we uiteindelijk wilden bereiken. Terugrekenend verkochten we de afgelopen anderhalf jaar elke dag minstens één Hope-poster, en op sommige dagen zelfs meer.
En nu is 'ie dus opnieuw gedrukt, onze 'Hope'. Op twee keer zo dik papier als voorheen en zonder wit randje, want dat bleek achteraf wat lastiger met inlijsten. Hope 2.0, dus. Voor mij zal dit toch altijd wel een bijzondere poster blijven.
Wil je een nieuwe 'Hope' hebben? Ter vervanging van je oude, of omdat je er nog geen hebt? Tot het eind van het weekend (17 augustus, 24.00 uur) krijg je bij elke 'Hope' poster er een gratis 'Hope' bij. Twee voor de prijs van één dus. Tijdens het bestelproces hoef je verder niets in te voeren of te vermelden, je bestelt één poster en we doen een tweede erbij in de koker. Je vindt de poster in de shop.
Tenslotte: ik kan niet genoeg benadrukken dat het dankzij Iris, Marlous, Wendel en Cristian is dat Zilverblauw als blog is blijven bestaan. Zij zijn echt het allerbeste team om achter je te hebben in goede én in slechte tijden, zij rulen bigtime.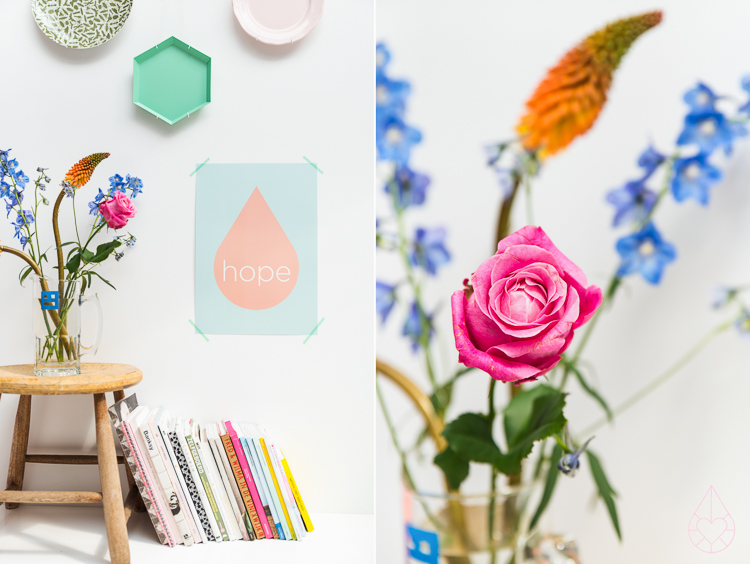 I told myself not to be too sentimental about this post, because hey, it's just about a poster. But the fact is: when I designed the Hope poster back in januari 2013, I was sure this would be the last poster we'd ever make as Zilverblauw. Times were tough back then, and I realized that the online world has brought me more bad than good things. If someone told me that we'd have almost 25 resellers one and half year after this crisis and we'd grow on and on as a brand, I'd laughed my head off. If somebody had told me the Hope poster would ever sell out, I would have laughed even harder.
I didn't stop blogging in 2013, simply because I love creating and sharing beautiful content too much. It made me happy back then and it still does. People showing their Hope posters online became a big encouragement for me, as if every Hope poster told me to hold on to my goals and dreams. To keep calm and carry on, so that's what I did.
A couple of weeks ago we realized the big pile of Hope posters (we printed so much of them that I was afraid I had to wallpaper all our walls with Hope posters for the rest of my life) was no longer a big pile. There wasn't any poster left, to be precise. They sold out. So we've decided to make a Hope 2.0, on thicker paper (250 grams instead of 120) and without white border, so it's easier to frame. 
To celebrate the new 'Hope', we're giving you an extra Hope poster every time you order one. So basically 2 for the price of 1. Just order one 'Hope' and we add the second one for free, no codes or other tricks needed. You find our posters in the shop. 
Oh, and one more thing: if there's somebody to blame for me not giving up on this blog, it would be Iris, Marlous, Wendel & Cristian. They're the best friends any blogger could wish for, they rule like bigtime. Thanks huns.