Ik vind dat ik moet wachten met de kerstversiering tot na Sinterklaas, helemaal sinds we kinderen hebben. Om toch alvast in wintersfeer te komen, toverde ik een hertje om tot winterhert.
Nodig: hertje, (&Klevering) stolp (Action, 2,19. Ik noem ze nogal vaak de laatste tijd, maar heb geen aandelen ofzo.) stukje stof naar keuze, bolletje wol naar keuze, naald en draad.
Doen: maak een kleine pom-pom voor op de muts van het hertje, (uitleg hier) ik gebruikte de diameter van een flessedop. Wikkel het stukje stof om het hoofd van het hert en zet vast met naald en draad. Naai de pom-pom vast op het mutsje. Knip een stukje stof voor over de rug, maak er evt. met naald en wol een accent op. Wikkel de wol om de pootjes als beenwarmers.
Maak jij ook een winterhert, of ander winterdier?  Stuur me een foto, dan maak ik een winterdieren-gallerij! (anki@zilverblauw.nl)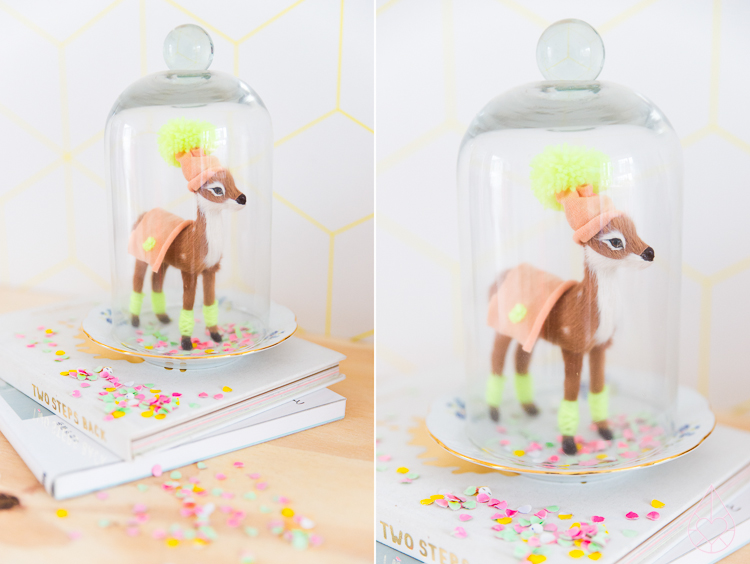 I'm really looking forward to the holidays to come. Here in Holland, we're celebrating Sinterklaas at December 5th. Before this date, it's sort of inappropriate to put up the decorations for christmas, especially with kids. So I made this winter deer, just to cosy up our home until Sinterklaas is back to Spain. I used a small deer from &Klevering, a small cloche bought here, a piece of fabric and some wool. Really easy, lots of fun. 
Have you also made a winter deer, or an other winter animal? Send a picture to anki@zilverblauw.nl, I'll make a small gallery!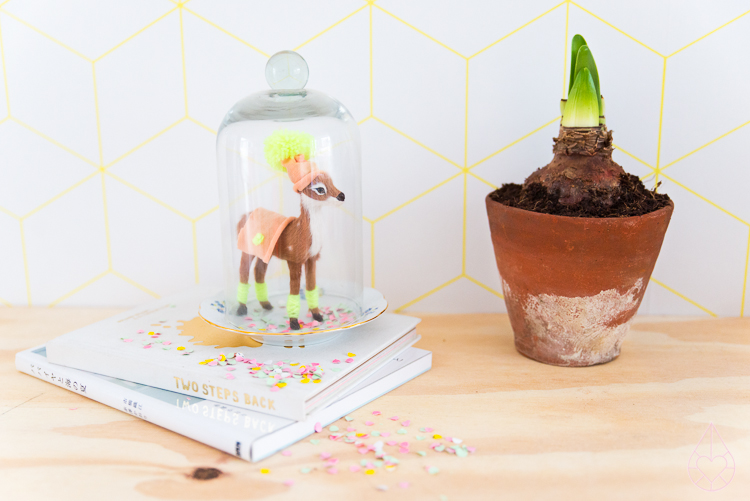 Geen zin om zelf aan de slag te gaan? Hou de shop van Martine in de gaten. Op Instagram zag ik dat ze leuke oorwarmers aan het maken is voor de Schleich-dieren die ze verkoopt. Hoe schattig!