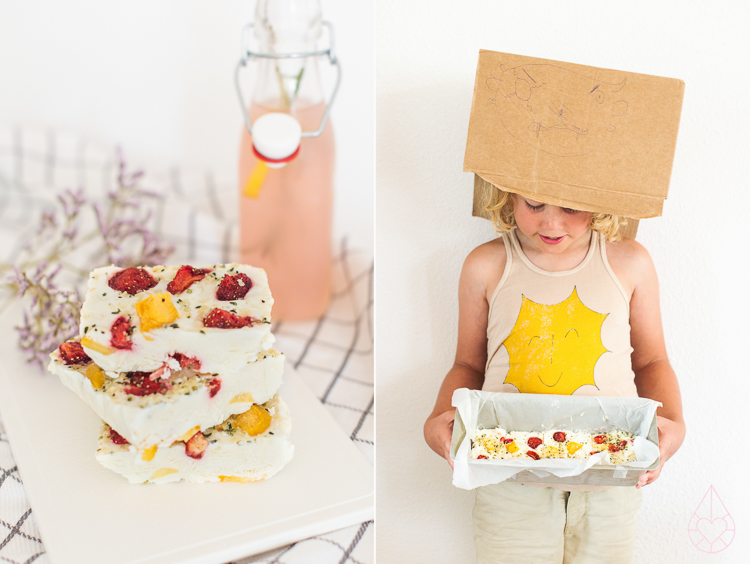 Gisteren regende het de hele dag hier in Zeeland, dus gingen we op pad naar een dorp vlakbij, waar ze een Action hebben. Een deel van mij ergert zich als ik in die winkel ben, aan de drukte en alle rotzooi die ze er verkopen. Een ander deel van mij houdt echter van de Action, omdat er altijd wel iets cools te vinden is.
Gisteren vonden we er gedroogd fruit in een mooie verpakking en gepeld hennepzaad. (Deze, maar dan dus de hennepzaad variant.) Met dat gedroogd fruit kun je prima je kinderen neppen, door te zeggen dat het snoepjes zijn. (Mus: 'mmm, nog meer aardbeiensnoepjes mama!') Ik besloot yoghurt repen te gaan maken met het fruit en het hennepzaad.
Yoghurt repen
Nodig: een grote kop Griekse yoghurt, honing, gedroogd of vers fruit naar keuze, eventueel wat gepeld hennepzaad of nootjes naar keuze. Een cakeblik of ander bakblik, bakfolie.
Doen: breng de yoghurt op smaak met honing. Strooi de helft van het fruit op de bodem van het bakblik en giet het yoghurtmengsel erover. Verdeel de rest van het fruit en wat hennepzaad eroverheen en zet in de vriezer totdat de yoghurt helemaal bevroren is. Lekker als toetje op een warme zomerdag.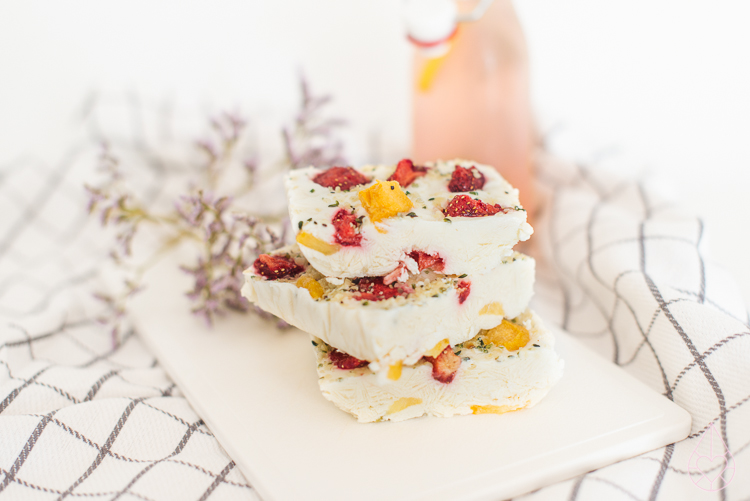 Yesterday we made frozen yoghurt bars. It was raining cats and dogs here at sea, so instead of going to the beach we went to a small town nearby, where I bought dried fruits and hemp seeds. Together with greek yogurt and some honey they make a nice dessert on a sunny day. Easy and delicious.