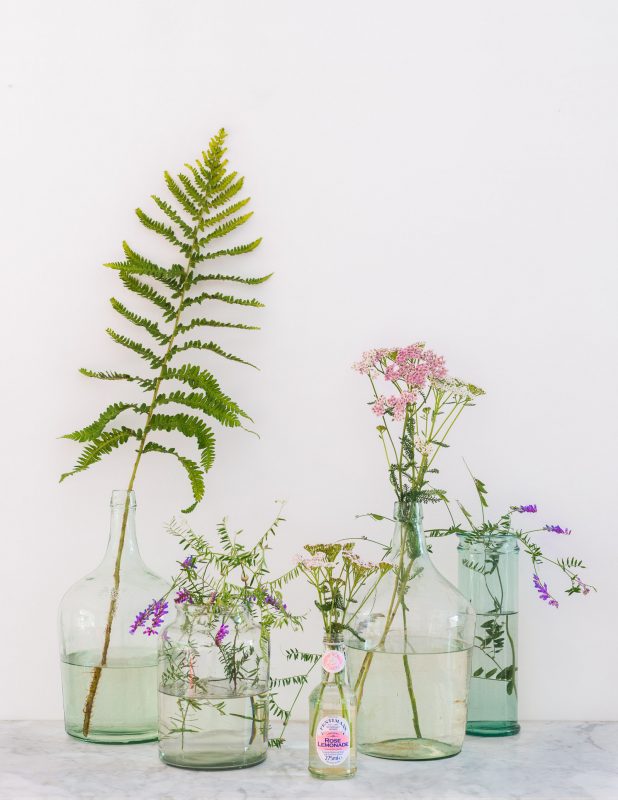 Hoewel ik erg van mooie (interieur)spullen en design hou, merk ik dat ik steeds minder graag mee wil doen aan de consumeerdrang die me opvalt online. Als een soort tegengeluid kocht en verzamelde ik de afgelopen tijd bijna alleen maar tweedehandse (onze vintage werkbank) en bijzondere en moeilijker verkrijgbare (de Evian-kratjes) spullen. Ik denk als een soort poging om wat balans te krijgen in de hysterische wereld die het internet soms kan zijn. En om te laten zien dat je heus niet altijd hartstikke veel geld hoeft uit te geven om een duidelijke eigen stijl neer te zetten.
I spent my spare time thrifting for glass flasks and vases. Although I'm a designlover pur sang, I love to deviate from the beaten track sometimes, especially since everyone on the internet suddenly seems to like the same stuff (which isn't entirely true of course, but social media makes me so much more aware of certain trends and I like to follow my own path). I completed the glass with flowers and leafs from our garden. Enjoy your Sunday!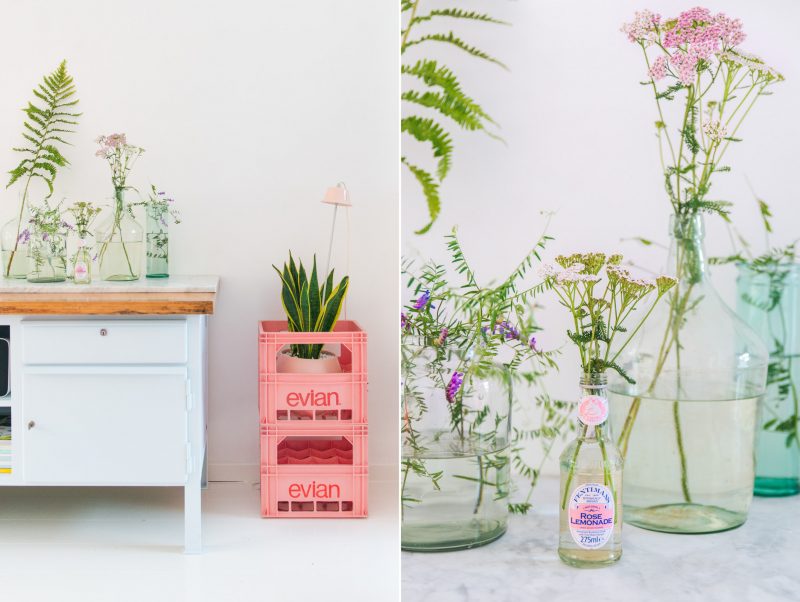 De glazen vazen en flessen die je op deze foto's ziet vond ik bij de kringloopwinkel. De duurste kostte me 3,50, de rest minder dan 2 euro. Het flesje met roze etiket nam ik mee bij een restaurantje, nadat ik de roze limonade die erin zat opdronk. De bloemen plukte ik in de berm, de varen stond in onze tuin. Ze maken me net zo blij als de nieuwste 'design must-have', of misschien zelfs wel blijer. Fijne zondag!