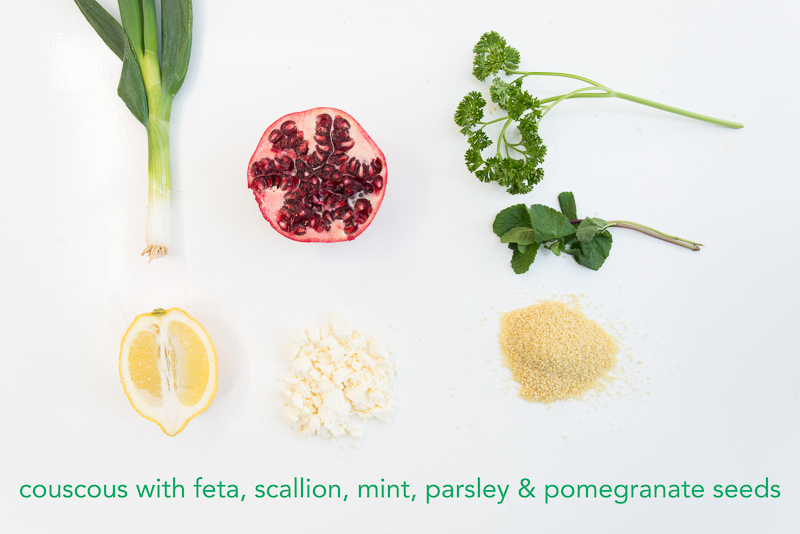 Ik kocht afgelopen week een granaatappel, gewoon omdat ik dat zo'n mooie vrucht vind om te zien en ik 'm graag wilde fotograferen. (Soms vraag ik me wel eens af of ik helemaal spoor, maar dan denk ik dat er vast meer mensen zijn met rare hobby's, zoals badminton, tafeltennis, of uren met een verrekijker naar vogels loeren, zoals mijn lief Casper) Nadat ik de granaatappel gefotografeerd had, 'moest' ik er natuurlijk wat mee, dus maakte ik couscous met granaatappelpitjes. Culinair duo Mireille en Arno maakten een soortgelijk recept op de bruiloft van vrienden en ik was er toen danig van onder de indruk, dus ik wilde het zelf ook wel eens proberen.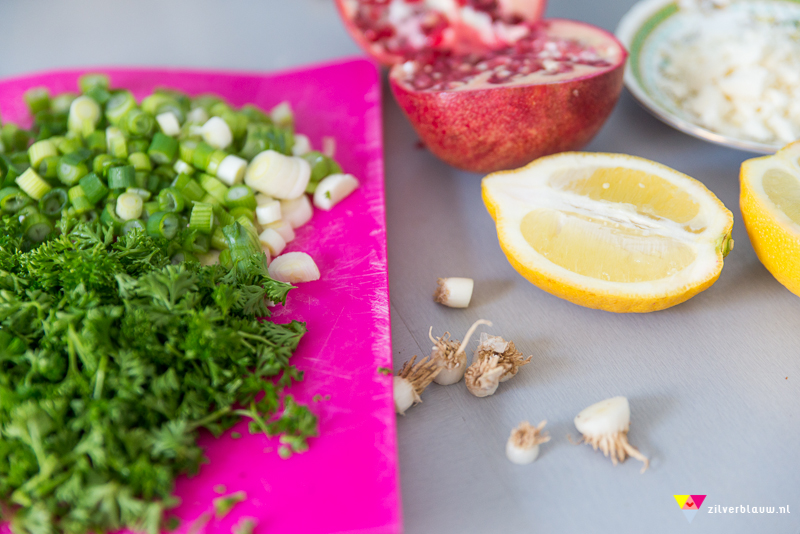 Ingrediënten: pak couscous (500 gr) 5 bosuitjes, in fijne ringetjes gesneden, 25 gram verse peterselie, flinke handvol verse muntblaadjes, zakje pijnboompitten, 200 gram saladekaas of feta, citroenrasp van een hele citroen, zwarte peper naar smaak, paprikapoeder naar smaak, de pitjes van één granaatappel.
Doen: bereid de couscous zoals op de verpakking staat en laat even afkoelen. Snijd de bosui in fijne ringetjes. Snijd de munt en de peterselie fijn. Rooster de pijnboompitten met een klein beetje olijfolie tot ze goudbruin zijn. Roer de inmiddels wat afgekoelde couscous goed los met een vork en voeg daar de bosui, de peterselie en de munt bij. Rasp de citroen erboven. Verkruimel de feta boven de couscous en roer goed door elkaar. Breng het geheel nu op smaak met zwarte peper, zout en paprikapoeder. Roer goed door elkaar en laat nog even een half uurtje staan zodat de smaken goed in kunnen trekken. Snijd de granaatappel door en verwijder de pitjes. (wat een ingenieuze vrucht hè?) Sprenkel ruim granaatappelpitjes over elke kom en serveer. Smakelijk!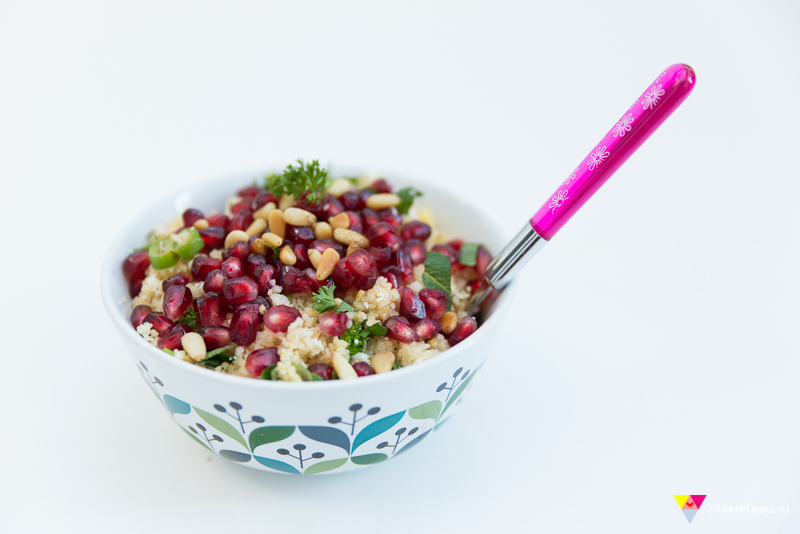 Ingredients: 1 box plain couscous, pomegranate seeds from one fruit, 1/2 c. roasted pine nuts, about 1/2 c. chopped fresh mint, about 1/2 c. chopped fresh parsley, 5 scallions, 200 gr. feta or salad cheese, black pepper, salt, lemon zest from one lemon.
Directions: prepare couscous according to package directions. Fluff couscous with a fork and place in a large bowl. Mix in remaining ingredients. Chill for about an hour prior to serving. Bon appétit!