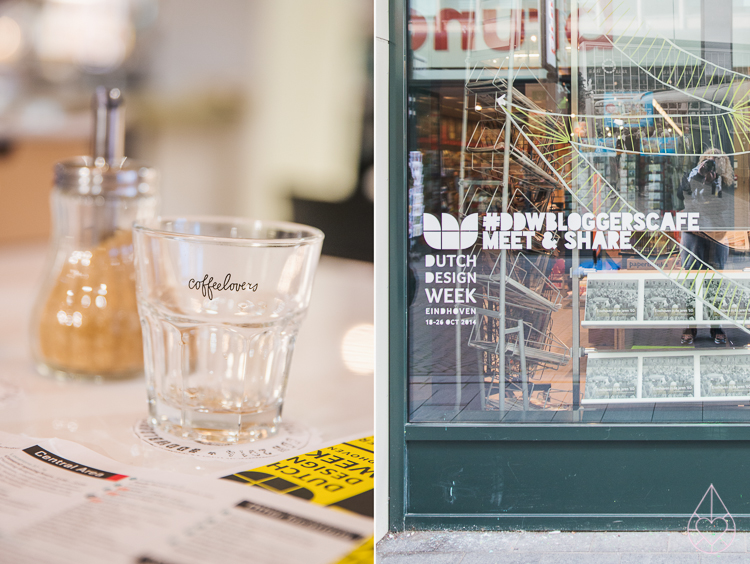 Gisterenochtend vroeg verzamelden Lonneke, Suus, Esther en ik in het café van Coffeelovers voor de laatste voorbereidingen voor het Dutch Design Week Bloggerscafé. Wat cool om te zien hoe al het harde werk van Lonneke vorm heeft gekregen.
Yesterday, Lonneke, Esther, Suus and I met -way to early- for the last preparations of the DDW Bloggerscafé. So cool to see how Lonneke's hard work pays off.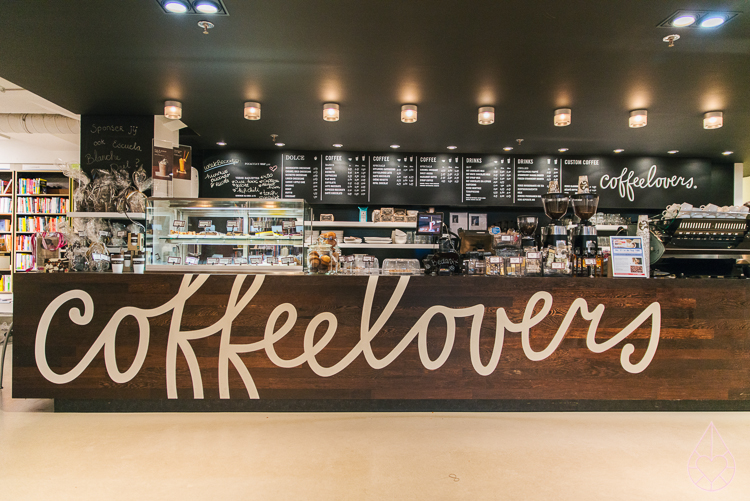 In het bloggerscafé, onder boekhandel van Piere, vind je zogenaamde 'Like-tafels', waarop wij vieren producten die ons vertegenwoordigen mochten uitstallen. Een leuk klusje. De 'Like-tafels' blijven de hele DDW staan, dus ga gerust eens kijken als je in de buurt bent.
In the bookstore, where the bloggerscafé is located, you'll find our so-called 'like-tables', where the four of us display items we find representative for our blogs.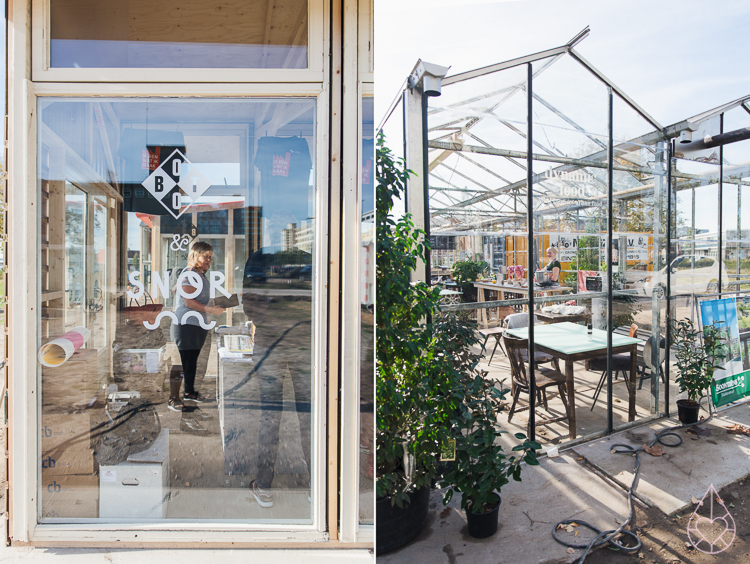 Na de nodige voorbereidingswerkzaamheden in het bloggerscafé gingen we de DDW in om vast wat van de sfeer op te snuiven. Erg leuk vind ik het terrein van SPACE-S, wat het toneel is van mini-festival OPEN UP. Er is van alles te beleven en te zien, zoals workshops, exposities van studenten van Design Academy en pop-up stores van Social label en Uitgeverij Snor.
After arranging our stuff at the 'Like-tables' we went to check out some DDW spots. I really like the SPACE-S-area, and, of course, Piet Hein Eek and the Ketelhuisplein. Great experience and so much fun! 
Piet Hein Eek en het Ketelhuisplein stellen nooit teleur, het was er gezellig druk en inspirerend. Bij Piet Hein Eek vond ik het een leuke verrassing om Liekeland met haar mooie spullen tegen te komen en was ik erg onder de indruk van de tentoonstelling van Ontwerpduo.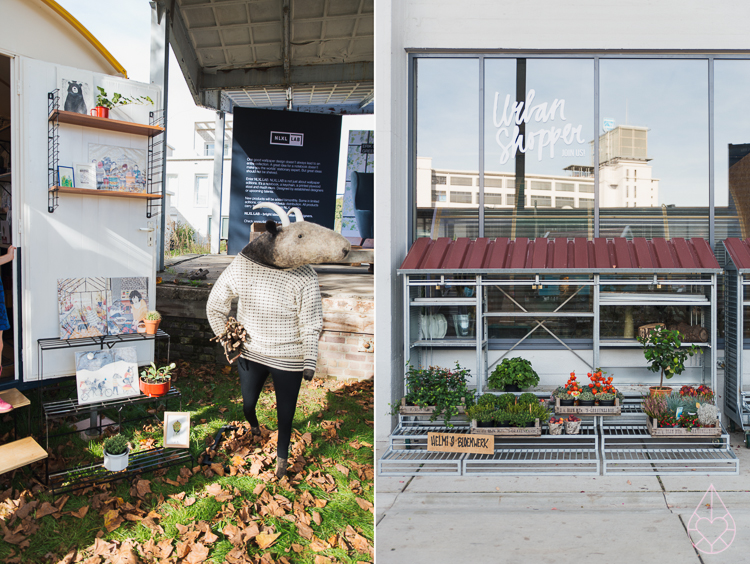 Na een kort rondje door Eindhoven keerden we weer terug naar het bloggerscafé voor de puntjes op de i én om natuurlijk de eerste 'like'-stickertjes te plakken op de DDW kaart. Hieronder is de kaart met hotspots nog maagdelijk leeg, inmiddels zijn er al heel wat tips gegeven. Wat een fijne eerste DDW-dag was het, wat hebben we gelachen. (Getuige onder andere deze foto) Op naar meer!
After some touring we went back to the bloggerscafé for the finishing touches. We placed the first 'like-stickers' on the map below. It's so much fun to work with this girls, I had such a good time. (see this pic, OMG) And there's even more to come, I can't wait.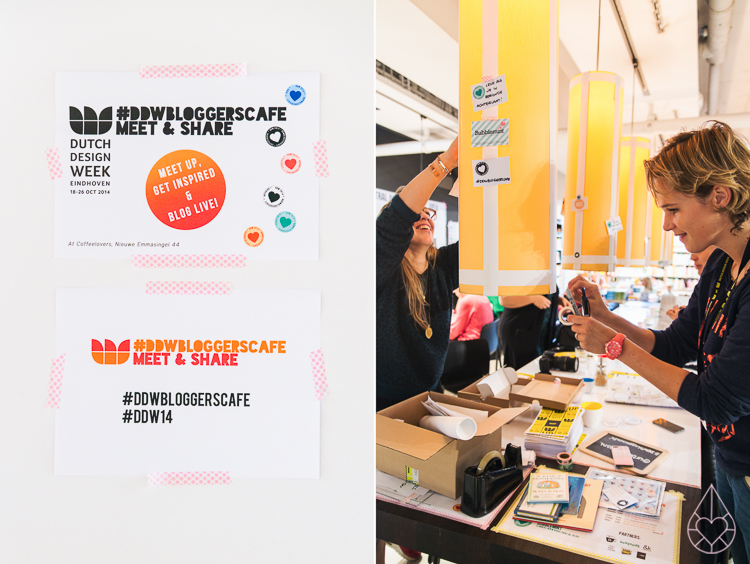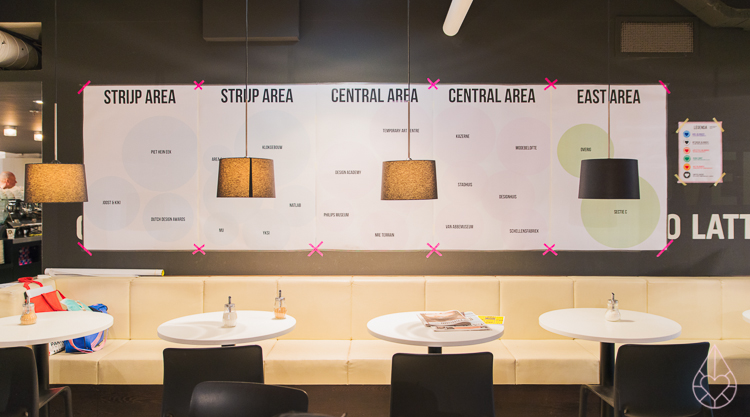 Het bloggerscafé bij Coffeelovers is er de hele DDW, je bent er welkom gedurende de openingstijden en hoeft niet vooraf te reserveren. Iedereen is welkom.  Het adres is Nieuwe Emmasingel 44 in Eindhoven, op 5 minuten lopen van het centraal station. Op dinsdag vind je er Esther met haar team met kids-bloggers, op vrijdag Suus met een club interieurbloggers en op donderdag ben ik er met mijn Lifestyle-team. De rest van de week kun je ook terecht in het café, Lonneke is er elke dag. Kom gerust even binnen voor een kop koffie of om even hallo te zeggen en laat vooral je visitekaartje achter. We vinden het ook hartstikke leuk als gastbloggers hun tips achterlaten op de DDW-kaart. Graag tot daar!