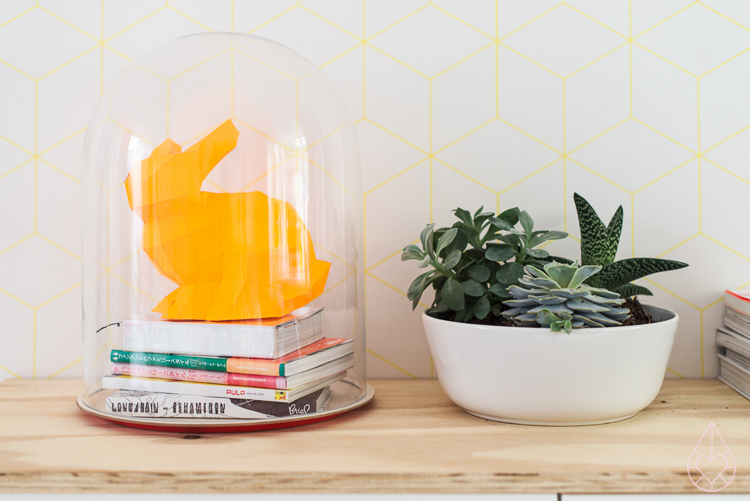 Tijdens de dagen dat ik met Zilverblauw bij Loods 5 was, zette ik dit gave konijn van Lise Lefebvre in elkaar. Dat klinkt makkelijker dan het was, in totaal deed ik er zo'n 11 uur over. Het konijn is opgebouwd uit 7 velletjes héél dun papier, die allemaal nog geknipt, gerild en gevouwen moesten worden. Het was een hels karwei. Na ongeveer 10 uur werk stampte ik het konijn bijna kapot omdat ik mijn geduld verloor. Gelukkig voorkwam vriendin Marieke, die twee dagen bij me was, deze kleine ramp en brachten we de klus samen tot een goed eind. Jullie snappen dat we trots waren. Ik schafte meteen een stolp aan (tja, dat is het nadeel van zo'n gave winkel; het is heel makkelijk om het verdiende geld direct weer uit te geven) zodat ik het konijn thuis een ereplek kon geven.
Aan het eind van de derde dag, toen we onze spullen gingen inpakken, parkeerde ik het konijn even op de voorstoel van onze auto, om beschadigen te voorkomen. Toen we wilden wegrijden, bleek het konijn van de voorstoel verdwenen. Ik dacht dat Marieke het voor de grap had verstopt, totdat we het, na een tijdje zoeken, helemaal aan het eind van de Loods 5-parkeerplaats zagen vliegen in de wind. Uit de auto gewaaid. Whoesj! Daar vloog elf uur bloed, zweet en tranen. Hoera voor Marieke, die het ontsnapte konijn uiteindelijk wist te vangen. Wonderbaarlijk genoeg zit alleen aan de zijkant van zijn kop een kleine beschadiging. Marieke en ik hebben gelachen tot we thuis waren en het konijn veilig en wel onder z'n stolp stond. Ik moet nog steeds glimlachen als ik ernaar kijk. Spullen met een verhaal zijn toch altijd het leukst.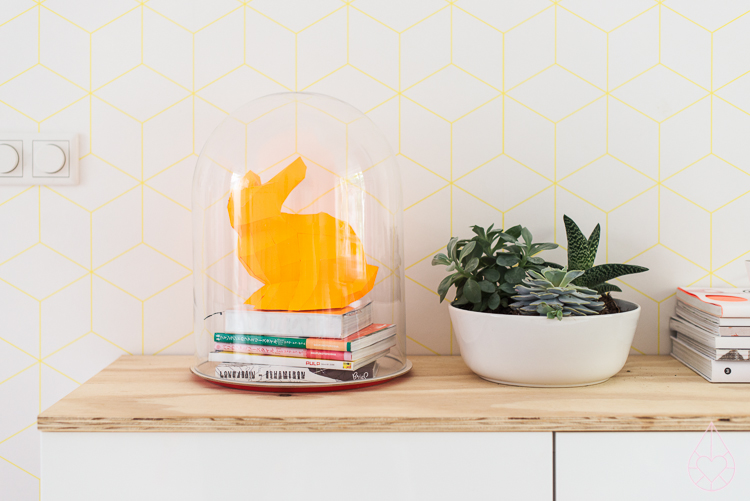 During our days at Loods 5, I spend a horrible 11 hours to accomplish this paper bunny by Lise Lefebvre. After 10 hours I lost my patience and almost crushed it. My friend Marieke, who accompanied me for two days, prevented this small disaster. Together we completed the bunny from hell. You can imagine how proud we were. I bought a cloche for it so it would be save.
When we were packing the car for our drive back after the last day at Loods 5, I placed the bunny on the front seat of the car for a moment. I didn't look at it for like 5 minutes, to continue packing, but when we wanted to leave, there was no more bunny on the front seat. Gone. Marieke and I started searching, under the car, under the seats… no bunny. And then, there was this moment when we saw our bunny, flying high, more than a 100 meters away, seized by a gust of wind. Luckily, Marieke is a good runner and after a while she managed to catch the escaped bunny. Amazingly, there is only a little damage. Looking at the (now safe and sound) bunny still makes me smile. I love this bunny's story.