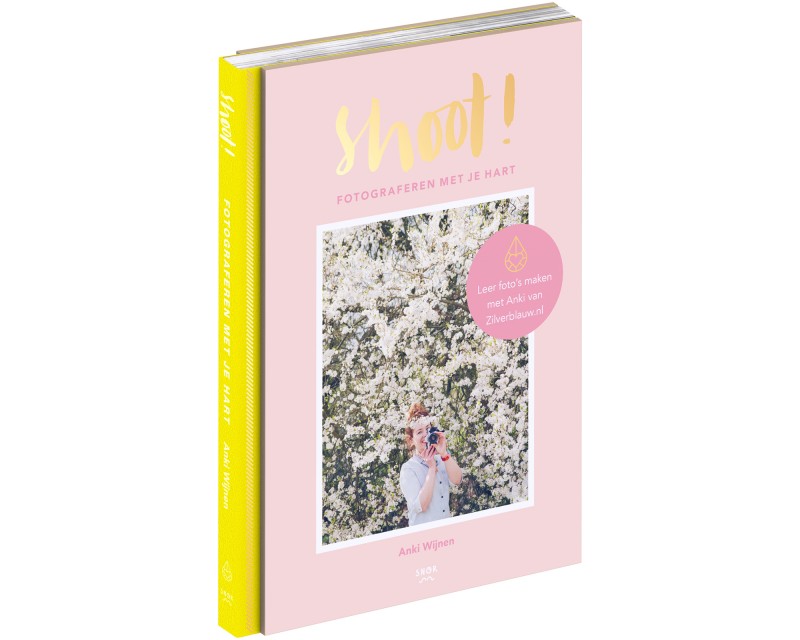 "There will come a time when you believe everything is finished; that will be the beginning."
― Louis L'Amour
De laatste maanden werkten Casper en ik hard aan ons allereerste eigen Zilverblauw-boek: Shoot! Fotograferen met je hart. Het is een boek voor iedereen die meer wil weten over fotografie, zonder ingewikkelde termen. Een boek vol met mijn mooiste foto's en tips hoe ik ze maakte. Een boek wat me kriebels in mijn buik geeft als ik het (nu nog op mijn scherm) bekijk, omdat het zo dicht bij onszelf ligt. Een boek wat ik zelf had willen lezen toen ik begon met fotograferen.
Met trots presenteer ik jullie een digitale versie van de cover. Die, zoals degene die me een beetje kennen inmiddels wel weten, behoorlijk wat voeten in de aarde heeft gehad, omdat ik erop sta met mijn hoofd. (Ik bedoel, ik heb een prima hoofd, maar foto's van mezelf vind ik altijd best ehh.. lastig.) De voor- en achterzijde van ons boek is van dik karton, met bedrukking in goud. Het boek heeft een linnen rug.
Casper, de dames van Snor en ik kunnen niet wachten tot 20 september, de dag van het Snorfestival én de officiële releasedatum van ons boek. Het belooft een mooi feestje te worden en bij deze zijn jullie allemaal uitgenodigd. (Meer info volgt!)
Tijdens het Snorfestival is het boek gesigneerd verkrijgbaar. Als je niet kunt wachten kun je het ook alvast (mooi ingepakt en gesigneerd als je wilt, dat kun je aangeven bij 'opmerkingen') pre-orderen in onze shop. Pre-orderen kan ook bij bol.com. Hoe cool is dat, mijn naam bij bol.com!
After months of hard work we're really proud to present you a digital version of the cover of our book Shoot! Fotograferen met je hart. ('Photography from the heart'.) A book for everyone who wants to learn more about photography, without difficult words and technical slang. Back in the days when I was starting with photography, this is the kind of book I would have loved to read. With loads of inspiration and tips to help you capture beauty in the everyday moments. You can pre-order a (signed, if you like) copy in the shop. The book is in Dutch. Release date: september 20. 
Met dank aan Milou voor de handlettering op de cover (en in de rest van het boek).