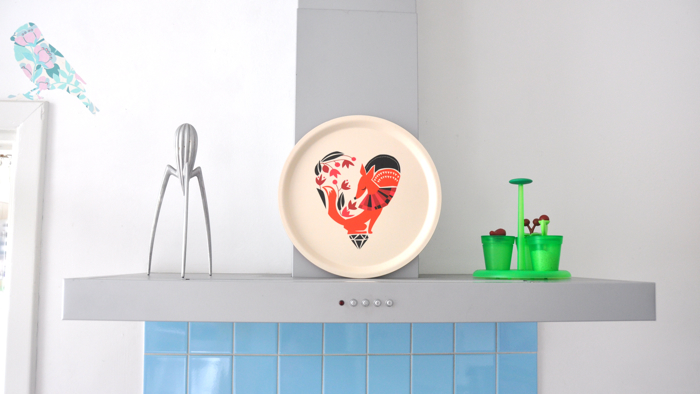 Beetje rare titel voor een 'Home sweet home'-logje, maar het is de realiteit; we hebben een vos in onze keuken. Het is Florence de Vos van Darling Clementine, om precies te zijn. Florence komt uit de webshop Lille Lykke. Caroline, de eigenaresse van Lille Lykke, gaat stoppen met haar webshop en houdt daarom een 'final sale', met leuke kortingen. En hoewel ik het ontzettend jammer vind dat zo'n toonaangevende Nederlandse webshop verdwijnt, is er gelukkig wel een leuke reden voor: Caroline krijgt een kindje! Mocht je nog snel met hoge korting een leuk Scandinavisch woonaccessoire willen scoren, neem dan gauw een kijkje in de Lille Lykke-webshop. Ik ben in ieder geval erg blij met onze vos, die al een tijd op mijn verlanglijstje stond.
Home sweet home is een initiatief van Barbara, kijk bij haar voor een lijst met alle deelnemers. Meer Home sweet home zien op dit blog? Klik op de button in de sidebar.
Strange title for a 'Home sweet home'-post, but there really is a fox in our kitchen. It's Darling Clementine's Florence the Fox. I bought Florence at Lille Lykke's webshop. Caroline, the owner of Lille Lykke, has decided to quit with her business. There's a huge final sale going on in her webshop. Although I think it's a pity that such a nice Dutch webshop quits, there's a good reason for it: Caroline's having a baby! If you're interested in buying some Scandinavian home-accesories with discounts, go check out Lille Lykke. I'm very happy with our new fox, who was on my wish list for a long time. Wanna see more Home sweet home on this blog? Click the button in the sidebar. For more Home sweet home on other blogs, check Barbara's blog.