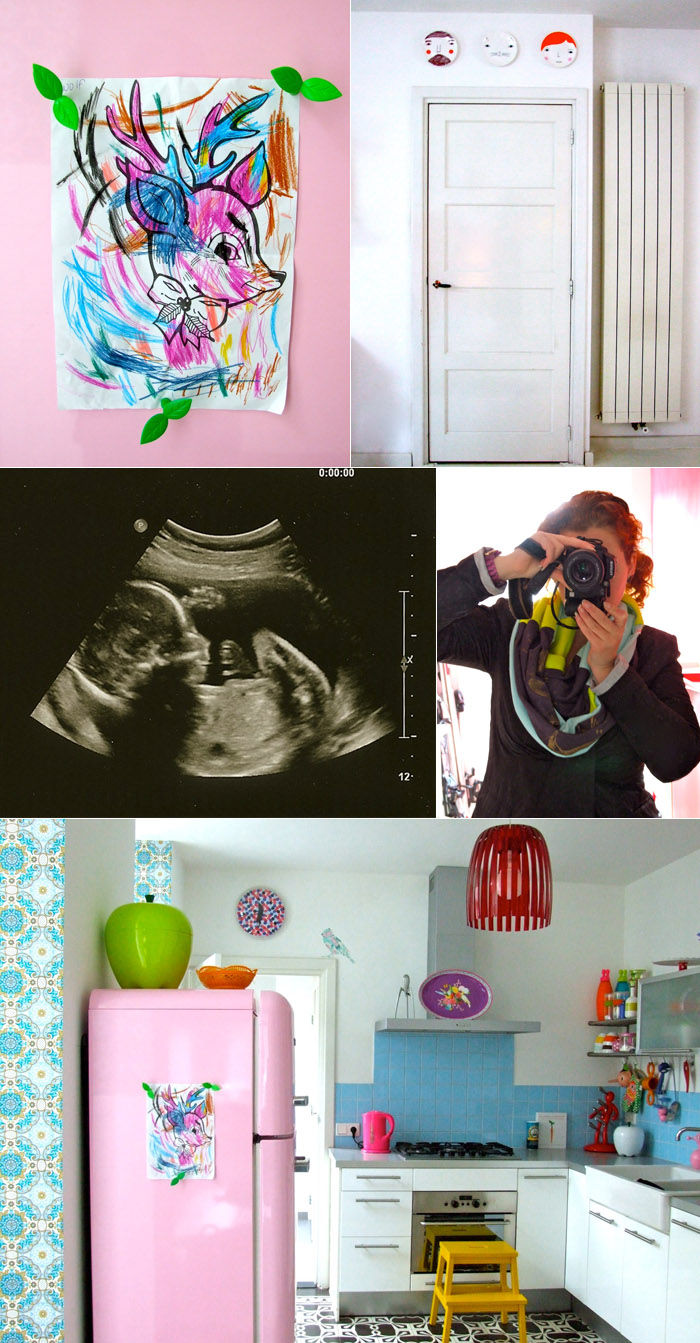 Ik ben mega-druk met werken en spelen op het moment. In mijn agenda streep ik de dagen af tot na tweede kerstdag, want dan heb ik vakantie. Vannacht kwam ik om 01.15 thuis van een optreden en vanochtend zat ik om 08.00 uur weer op mijn werk. Zometeen mag ik weer een avondje. Het is enerzijds afzien, maar anderzijds is het ontzettend leuk. Dit weekend zal ik proberen wat foto's te maken van de kerstshow en ze hier plaatsen. Nog een paar fotootjes van deze week, in en om het huis;
– Wolf kwam thuis met een prachtige hertenkleurplaat, gemaakt op school. Ik vind dat hij mooi bij de keuken past.
– Casper heeft mijn collectie Donna Wilson bordjes boven de kelderdeur gehangen.
– We moesten woensdag nog een keer terug naar het ziekenhuis, omdat het babybroertje niet alles liet zien op de echo. Gelukkig was alles nu oké en kregen we een hele mooie foto mee, als je goed kijkt zie je hem zelfs zijn tongetje uitsteken.
– Op de foto die ik van mezelf maakte, heb ik een sjaal om van Maartje van den Noort, gekocht op de Funky Xmas market. Maartje maakt schitterende dingen!
Morgen weer lomo-saturday, ben benieuwd wat het fotorolletje me deze week zal gaan brengen.
I'm very busy at the moment, working at school in the daytime and singing in the evening. I'm tired, but I enjoy this time of the year, in spite of the exhaustion. I'm really looking forward to the day after christmas, when my holiday starts. This are a few photo's from this week.